Business Professional Websites for £399
New website in two weeks - Only £399! - Quick, effective and easy to use business tool. Change whatever you want whenever you want to...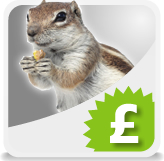 This opportunity to shift your company from the static dark ages of the 20th century into the exciting future of the web on a crisis budget cannot be missed. Invest £399* and by using our cutting edge, self explanatory tool; update your own website's content as often or as little as you like without worrying about tricky HTML coding and with no fear of destroying the design. That's the beauty of Top-Content.
Pay a monthly fee of just £25pcm and benefit from one of the most Search Engine Friendly tools available on the market.
From 01/09/2010 for three months we set up e-mail on Google Apps for free. No hosting fee and a familiar interface recognised worldwide (T&Cs apply)
Top-Content CMS was created by SEO specialists and Web Developers together
* - all prices excl VAT

posted 28th December 2011 at 09:08am by KK