Our Geotargeting Solution
We have recently launched our first website using a full geotargeting setup. It knows where the visitor is from so shows them specific content such as local contact details, special offers and all the prices in their own currency.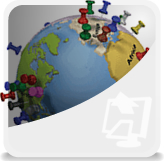 We have worked with other website in the past which have used their own geotargeting and from that have learnt how they can be improved and used to your advantage. Our new setup incorporates both IP lookup & country-specific domains. Of course, our solution is both user and search engine friendly.
If you would like more information on our development services then please check out our Web Solutions

posted 28th October 2009 at 13:25pm by Ross McLellan