Special Offer: Website for Peanuts!
So you think CMS websites have never been affordable? Webskills 'Top-Content' System is here to change that view. For January 2010 Only, a Professional Website is just £250 pa (excl. VAT) No hidden costs, No hidden tricks. (T&Cs apply)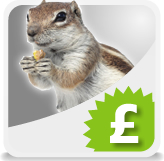 Main Features for Top-Content £250pa Website:
Fast Design and Production Process
Your Existing Branding Implemented
Search Engines Friendly Features
Support for E-mail*
No web knowledge required to run the website

Top-Content is our unique CMS with modular build features. This allows your website to expand as your company expands. This limits the need for expensive redevelopment or migration in the future. Just type the content in and away you go!
Enquire Now!
---
Terms and Conditions
Websites run by Top-Content CMS. This package is recomended for micro businesses and SMEs with very limited online operations.
- * one e-mail box supported
- for new customers only, one website per customer

posted 1st October 2009 at 23:20pm by Webskills Team