Content Management Website for £199!
New website from only £199! - Easy to update, fast, effective . Change text and pictures whenever you want to...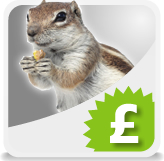 Happy New Year!
If you need your first window to webspace or you own basic website which needs revamp this is the most effective solution. This is by far the best deal in 2012. You can keep it simple and efective. With no need to spend great amount of time to tweak your website you can still recieve visits from Search Engines like Google.
Clear layout
Easy to use
Quick to update
199 Package contains:
- Website with up to 10 pages - £199+VAT
- Hosting - £5pcm + VAT (paid annualy £60+VAT)
- NOW also! FREE domain registration with this package (only up to 31/01/2012)
call us know 02089415151 or email 199@webskills.co.uk

posted 6th January 2012 at 15:38pm by KK